CRIF High Mark, CreditVidya Seal First-of-its-kind Partnership in India
CRIF High Mark, a leading credit bureau licensed by the RBI, and CreditVidya, the leader in alternative data-based credit assessment, announced a strategic tie-up to provide lenders with credit scoring even for new-to-credit and 'thin-file' customers.
Speaking on the partnership, Kalpana Pandey, MD & CEO, CRIF High Mark said, "We are excited about our partnership with CreditVidya as we share a similar vision of creating comprehensive and inclusive solutions to enhance access to credit in India. Our joint solution will enable institutional lenders to expand their coverage to millions of currently underserved people – not just the ones who lack credit history but also the 'thin-file' customers who may have a minimal or insufficient credit history."
By joining forces, CreditVidya and CRIF High Mark seek to help banks and NBFCs provide reasonablypriced credit to the large section of millions of financially underserved. The partnership is designed to help banks and NBFC's to expand their coverage of unsecured retail loans significantly, by leveraging the power of alternative data to underwrite new-to-credit individuals profitably.
Abhishek Agarwal, CEO & Co-Founder of CreditVidya says, "CreditVidya's mission lies in reimagining the credit ecosystem for greater financial inclusion. This first-ever partnership with a credit bureau will allow lenders to underwrite millions of more individuals compared to before. CVScore, developed on our deep-learning Artificial Intelligence tech platform, is set to be a game-changer for the ecosystem and a never-before opportunity for lenders in India, as it will make unsecured lending faster, easier and more profitable."
CreditVidya's scoring platform has been built on over 12 million loan applicants across 40+ lending partners. The vast amounts of unstructured data available via digital footprints is effectively harnessed to help lenders make granular risk assessments of loan applicants, who lenders would otherwise not be able to underwrite. It has enabled a 15% higher approval rate for bureau-scored applicants, compared with traditional methods of underwriting. The scoring platform ensures 33% lower delinquencies for the same level of risk.
Lenders in India and across the world have been looking at ways of extending the coverage of loans while maintaining good portfolio quality. To this end, the partnership between CreditVidya and CRIF will enable access to institutional credit to the hundreds of millions of underserved, and promises to transform the retail credit landscape.

About CRIF High Mark
CRIF High Mark is India's leading credit bureau with data of 40 crore individuals from nearly 4500 lenders. It supports banks, financial institutions, insurance companies and telecom players with credit risk management solutions including data, scorecards, analytics and decision platform in every phase of the customer relationship: from customer assessment, onboarding onto servicing and management. It is part of the CRIF group, which is a global fintech with a presence in over 70 countries across 4 continents.
About CreditVidya
CreditVidya is the leading player in the alternative credit scoring space India. A pioneer in the domain, we are leveraging alternative data, Artificial Intelligence and machine learning to facilitate institutional credit for the smartphone generation. Our products are helping a large section of the salaried and self-employed population become visible to lenders, by making it financially viable for banks and NBFCs to underwrite customers for muchsmaller unsecured loans. 35+ leading banks and NBFCs share our vision and rely on our products to manage the credit cycle from end-to-end: Prospecting, Credit Underwriting, and Delinquency Management.
Original Source: Print
CRIF, CreditVidya to Help New Borrowers get Loan from Banks
Publication: The Economic Times | Mumbai | Page No-12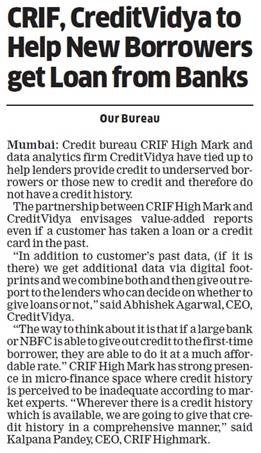 Credit info co, fintech tie up for first-time borrowers
Publication: The Times Of India | Mumbai | Page No-22

Online: The Economic Times, The Times Of India, Zee Business