Personal Credit Score and Report
Check your credit score with CRIF and get on the path to good credit now!
Get Your Score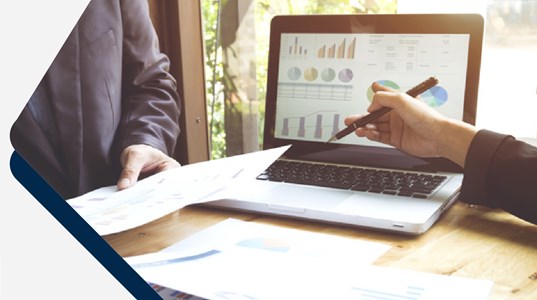 A Personal Credit Score is a three-digit number that summarizes an individual's credit history. The information provided by the financial institutions with whom a person is affiliated is used to create their personal credit score. Your credit score indicates your creditworthiness when you apply for a loan, decide on the terms of your loan, and loan eligibility.
When applying for a credit card or a loan from a bank or NBFC, having a higher credit score may entitle you to additional benefits such as a more significant loan amount, a lower interest rate, and the option of repaying the loan over a more extended period.
Your personal credit score is based on your credit history over time with different lenders and institutions, including the number of open accounts, total amount of debt, history of repayment, and other variables. Financers use this to assess the likelihood that an individual will be able to make timely loan repayments.
RBI licensed Credit Bureau

Globally trusted by 500Mn+ Users
Tie up with 3000+ Institutions

ISO 27001 certified
Personal Credit Report Plan & Pricing
Your credit score won't be affected by checking it. Subscribe right away for unlimited credit score access to have a better understanding of your credit situation and maintain a good financial health.
FAQs
How to Check Credit Score Online?
You can check your free credit score here or get a plan to monitor it frequently.
What is on a Credit Report?
Your credit report reflects your complete credit history. It consists of all your credit cards, loans from banks or NBFCs, along with the limits, spending and payment history.
What Is a Good Credit Score?
Credit scores between 580 and 649 are regarded as fair, 650 to 799 as good, and above 800 as exceptional.
Will Checking Your Credit Hurt Credit Scores?
No, checking your personal credit score do not impact it. Rather, it is recommended to do a check to ensure a good health before you apply for a loan or credit card.
Should You Check Your Personal Credit Score Before Applying for a Loan?
Yes, you must check your credit score to avoid applying for a loan in case it may get rejected. You can better prepare and resolve issues if you are aware of your score beforehand. Moreover, you might attempt to raise your credit score if it is low before requesting a loan.
How Long Does It Take to Improve a Credit Score?
Improving your credit score will need effort, patience, and financial management. It won't suddenly boost unless there is any dispute. If you manage your finances right, it will typically take 4–12 months to increase a super low credit score.