Sherlock Lending at a Glance
With the advent of e-commerce, digital payments and digital transformation at large, application fraud cases in the Lending industry have become a common sight. Estimated digital fraud losses are staggering and can negatively impact business performance. It is advisable to mitigate fraud risk from the start with an application fraud detection solution. So how do you demotivate fraudsters from targeting your financial institution?
Sherlock is an innovative automated fraud detection tool launched by India's leading RBI authorized consumer credit bureau CRIF High Mark. It is a fraud detection, investigation and incident management solution for banks and lending institutions, powered by artificial intelligence and proprietary machine learning techniques. It is a one-stop solution for application fraud detection, covering multiple verifications and checks in real-time (PAN, Voter, DL, Email, Litigation, Negative Profiles already identified by the industry) required for a due-diligence at the loan application stage.
Protect your lending business from the risk of application fraud with Sherlock.
Sherlock Lending to the Rescue - Discover Our Complete Anti Fraud Solution Suite
Looking beyond Identity Verification-Simplify Customer Onboarding
Identity fraud is a serious threat to any business. Sherlock has an automated process to verify government-issued Identity documents in real time. Now perform end-to-end validation checks with ease.
Fraud Index-Reduce the risk of threats
Sherlock assigns a Fraud Index which represents whether a given applicant is fraudulent or comes under the radar of being fraudulent. The fraud index helps financial institutions to significantly speed up your ability to identify and respond to application fraud attacks.
AML Check-AML screening and monitoring
Streamline your Anti-Money Laundering risk and reduce false positives with Sherlock's automated compliance screening. Get AML checks done in seconds to onboard your authentic customers.
Anomaly detection-Automatic anomaly detection
Sherlock detects signs of fraudulent manipulations and different types of anomalies in the applications flow and thereby identifies high risk customers.
New Account Fraud Prevention-Fight fraudulent account opening
Account opening fraud can result in significant losses and damage to a business. Sherlock smartly identifies fraudsters before they gain access to any account opening processes.
Synthetic identity fraud-Say Bye to Synthetic identity fraud
Synthetic identity fraud is the creation of fake identities based on a combination of stolen real personal information and false details. Combat and prevent synthetic identity fraud with Sherlock.
New to Credit Cases
In case of a new to credit portfolio, where the applicant does not have a footprint either in the application data or the bureau data and not much information is available for due diligence, Sherlock can raise red flags around anomalies against application elements, KYC verification failures and other checks around email and litigation.
Predictive analytics solutions-Detect potential security threats
Sherlock uses the most effective data analysis techniques including consumer trends to detect and prevent suspicious activity, successfully detecting and preventing application fraud.
Comprehensive risk assessment report-Mitigate risks to an acceptable level
Download the full report for in-depth observations, additional findings, and recommendations - all the information now in one comprehensive report. Sherlock's Comprehensive fraud risk assessment report helps lending institutions proactively address vulnerabilities and take requisite actions.
Seamless Customer Experience-Identify Risks and Control them
SHERLOCK performs verifications against multiple data sources in a single click thereby completely digitizing the process without impacting the customer experience. Mitigate fraud risks while ensuring that the customer experience does not get hampered with Sherlock Lending's fraud prevention solutions.
How can we help you?
While you focus on Growth, we focus on your Protection
Protection from financial losses
Save time and money wasted in manual fraud process detection
Strike the right balance between secure and frictionless customer experience
Automatically block fraudulent applicants, before they attack your business
Provide uniform recommendations on the next course of action, once fraud is detected
Enrich the decision making system with real time analytics
Increase the speed of interventions
Sherlock Lending - A trusted partner to protect your business
How it works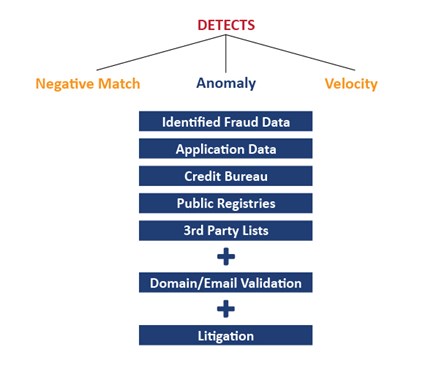 Why Choose Sherlock Lending for application fraud prevention?
Top-notch Fraud detection technology that protects your lending business from application fraud
Reduces false positives to improve the catch rate
Customizable Fraud protection parameters
Clear acquisition analytics to take fully informed decisions
Real-time Fraud detection and monitoring with Machine Learning
Assisted Investigation on the suspected flags
Can be easily embedded and integrated into your workflow
Lower review time for suspicious cases
Vast & ever expanding data network
Would you like to know more about identity verification?