Rural Business Confidence Index 2022 at 73.5, an increase of 9.6 points over 2021, indicates CII-CRIF RBCI Report
Mumbai, 18th January 2023: CRIF High Mark, a leading Indian credit bureau, today, launched the second edition of its Rural Business Confidence Index in collaboration with the Confederation of Indian Industry (CII). The Index provides an outlook of rural business sentiment in 2022 and reports that the rural business confidence score as of 2022 stands at 73.5, witnessing a growth of 9.6 points over 2021.
The Survey for RBC Index was conducted by CII on their members operating in rural locations. The survey sample consists of entities from Micro, Small, Medium, and Large corporations. The findings of the survey collected from the rural markets at a pan-India level suggest that 70% of respondents expect government policies and schemes to drive rural growth to improve in 2022; 59% of respondents expect the profitability of their organization to enhance in 2022, 82% of respondents expect digital penetration to accelerate in 2022. Additionally, the insights highlight that 43% of respondents expect the availability of skilled workforce to improve in 2022, and 69% of respondents expect improvement in the quality of infrastructure in rural India in 2022. Furthermore, it cites that 64% of respondents expect the order book of their organization to improve in 2022 and 42% of respondents expect ease of access to credit to improve in 2022.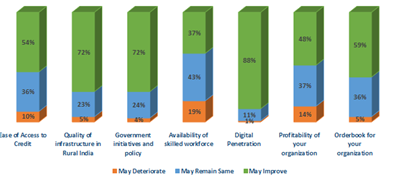 The report also illustrates that, there has been an impressive expansion of credit in rural geographies from FY21 to FY22 with a 25% growth in Retail originations by value and 85% by volume, 30% growth in Microfinance originations by value and 21% by volume, and 28% growth in Commercial loan originations by value. However, there was a 5% de-growth in volume in the same period. Additionally, the findings note that the Average Ticket Size in FY22 for Retail is ₹1.3 Lakh, for Microfinance is ₹37.5K, and for commercial loans is ₹133 Lakh, as compared to ₹1.9 Lakh for Retail, ₹ 35K for Microfinance and ₹98 Lakh for Commercial loan segment in FY21.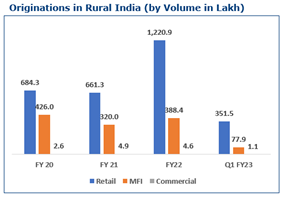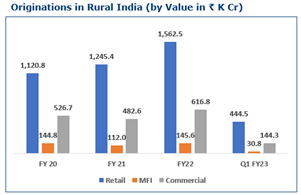 Mr B Thiagarajan, Chairman, CII National Task Force on Rural Development & Migrant Workforce and Managing Director, Bluestar India said, "Today, more than ever, Rural Economy has become central to India's economy. The increase in the Business Confidence score from 63.9 to 73.5 reflects impressive resilience during COVID Pandemic and demonstrates faster growth in the last 2 years. Rural India today is beginning to witness emergence of new players and new models to create the desired localized cycle of growth. We are confident that the Index will act as critical enabler for taking strategic decisions towards inclusive rural economic development."
Mr. Sanjeet Dawar, MD, CRIF High Mark, said, "The second edition of the Rural Business Confidence Index observes that there is an increase in credit demand by rural India with the growth of rural loan disbursements by 26% by value and 64% by volume during the period FY21 to FY22. The RBCI 2022 score is at 73.5, a YoY increase of 9.6 points, highlighting the rural markets' uptick and resilience in the last two years despite the pandemic distractions, reinforcing hope and development into the business activities."
The RBCI score is an essential parameter to reflect the macroeconomic outlook across industries in the rural sector. The Rural inflation (CPI) decreased from 5.9% in 2020-21 to 5.4% in 2021-22 coupled with government budget allocation on the sector which increased by 15% between 2021 and 2022. The index computation leverages data that comes from three sources – Survey data provided by CII, Credit Bureau data provided by CRIF High Mark, and Macro-Economic data from RBI and various Government of India bodies.