NPA Record Improves In Micro finance Sector- CRIF Insights
Tamil Nadu's non-performing asset (NPA) situation in the microfinance sector continues to improve, dropping to below 1% as of September, according to data from credit bureau CRIF High Mark Credit Information Services.
The State leads in terms of the microfinance sector, with a gross loan portfolio of ₹23,900 crore as of September 2018, accounting for 15% of total loans at the national level.
The portfolio grew 6% from the last quarter, according to the data. Tamil Nadu also fared better than the national average in terms of the portfolio at risk (PAR), a metric which represents the proportion of a microfinance institution's total gross outstanding loan portfolio which is at risk of default.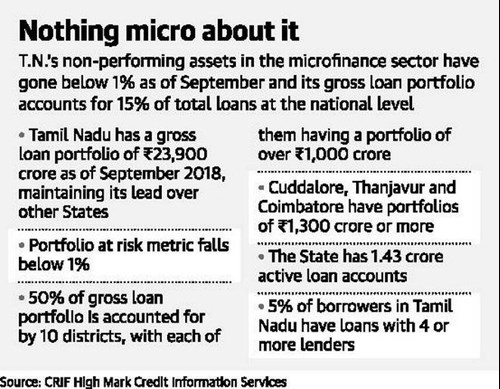 When it came to PAR for over 30 days, Tamil Nadu accounted for just 0.76% as of September 2018, compared to 2.9% as of September 2017. The metric for under 30 days for Tamil Nadu stood at 0.92% as of September 2018, when compared to 2.15% in the same period last year. At the national level, PAR for over 30 days stood at 1.08% and for under 30 days at 3%, according to the data.
"The lower trend of NPA is because the collection efficiency of companies is good. There is growth in lending, as borrowers are taking more loans because of their confidence in the future," Harsh Shrivastava, CEO, Microfinance Institutions Network (MFIN), said.
Tamil Nadu has around 45 formal institutional lenders and 13 members of MFIN, which lend to the microfinance segment. Interestingly, the data showed that the average ticket size of a microfinance loan in the State is now at ₹26,700, lower than the national average of ₹29,000.
Minor niggle
However, one of the worrying signs as per the data for the State is that 5% of the borrowers have loans with four or more lenders, up from 3% in March 2018. According to Reserve Bank of India's guidelines, more than two microfinance institutions cannot provide loans to the same borrower simultaneously.
"PAR for the industry has been improving for many quarters. It is coming back to sub-1% as it used to be before November 2016 (pre-demonetisation). The Kerala floods will cause a minor localised disturbance in PAR," Parijat Garg, Vice President, CRIF High Mark Credit Information Services, said.
Original Source: The Hindu