Microfinance Repayment Instalment Window To Be Extended For Cyclone Affected Borrowers
Several people in Gaja-hit regions have borrowed from microfinance firms
S. Nagalakshmi (named changed on request) from Thiruvarur district borrowed a few lakhs from a reputed microfinance firm a year ago and was running her business successfully. Now, Cyclone Gaja has destroyed the 200 sq ft building from which she managed her business, putting her in a helpless position to repay the loans.
Not just Nagalakshmi, several other people in the delta region and other Gaja-hit regions like Cuddalore have borrowed from microfinance firms and are looking for some relief in terms of repayment. Microfinance players have decided to give an extension on repayments of loans by a month. According to industry sources, Cuddalore and Thanjavur districts have a micro-loan portfolio of ₹2,000 crore.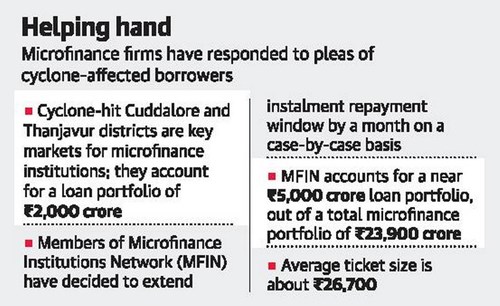 Members of Microfinance Institutions Network (MFIN) — a self-regulatory organization for microfinance institutions — have decided not to put pressure on repayments. It has also decided to extend the repayment instalment window by one month, on a case by case basis, without any penalty, an official said.
Tamil Nadu has a gross micro-loan portfolio of ₹23,900 crore in the microfinance sector, of which MFIN members account for nearly ₹5,000 crore. The State has around 45 formal institutional lenders and 13 members of MFIN, which lend to the microfinance segment.
Analysing situation
Arjun Muralidharan, MD and CEO of IDFC Bharat Ltd — which is a business correspondent and wholly owned subsidiary of the IDFC Bank — said they were closely monitoring the clients and trying to understand the impact of the cyclone."We are giving an extension period for repayments. We are not doing any collections in the affected areas," he added.
P. Satish, executive director, Sa-Dhan, an association of community development finance institutions, said it had issued an advisory to its members to not put pressure on repayment and assist the customers to restore to their normal life. L.V.L.N. Murthy, chief business officer and interim-CEO of Dvara KGFS, said that both their customers and employees were are in various relief camps. "Ensuring their safety and helping them to get back to normal life is the priority," he said. The firm has set up relief camps across districts to assist people.
"Generally, in case of natural calamities, the microfinance institutions extend the time period for repayment by a month or so. We saw that happening during the Kerala floods as well," Parijat Garg, vice-president, CRIF High Mark Credit Information Services, said.
Original Source: The Hindu