Two-wheeler loans grow 32 pc in 2017; Gujarat has highest NPAs - CRIF Study
Two-wheeler loans witnessed an impressive 32 per cent growth in 2017 led by non-bank lenders, and Gujarat had the highest incidence of non-payments by borrowers.
The Thane district, on northern fringe of the Mumbai metropolitan area, had the highest asset quality stress in the segment, the data said.
"The loan growth is led by non-bank lenders, which indicates a good showing by the captive non-bank finance companies promoted by the auto makers," Kalpana Pandey, the managing director and chief executive for CRIF High Mark, told PTI.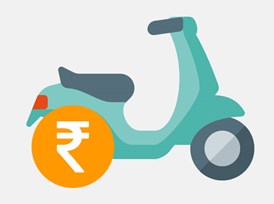 The company, one of three major credit information firms, said the gross loan portfolio for the two-wheeler segment grew to Rs 39,100 crore as of December 2017, with the NBFCs growing 37 per cent.
From a market share perspective, the proportion of NBFCs grew to 67 per cent from the 60 per cent level two years ago, it said.
Pandey said indications are that the loans growth is out-pacing the one recorded earlier, pointing out that if one were to compare the first nine months of fiscal year 2017-18 that ended in December, the growth is over 35 per cent.
Maharashtra is the biggest two-wheeler loan market, accounting for Rs 5790 crore of the book, and the share of the state grew by 0.55 per cent during the year.
From a NPA perspective, Gujarat has the biggest portfolio at risk, with 3 per cent of the loans overdue for 90 to 180 days, followed by Maharashtra, Karnataka and Rajasthan from an NPA perspective, its data said.
Thane has NPAs of 4.46 per cent, which is followed by Ahmedabad (3.84 per cent) and Surat (3.61 per cent), it said.
The aggregate NPAs for the entire portfolio stand at 2.02 per cent.
The private sector lenders who account for over 30 per cent share of the market - the state-run lenders are virtually absent - have a better hold over the NPAs with a 1.07 per cent of the book in stress as against 2.45 per cent for the NBFCs.
In terms of penetration of formal finance, the data said 50 lakh vehicles got financed in the first nine months of FY18, as against the industry estimate of two crore sales in the last fiscal.
Also, as per data, there is a shift in the market to vehicles with higher costs, which has also increased the average ticket size of loans to over Rs 48,000.
Even though the market players say there is a high share of rural market in auto sales, the CIC data said the urban areas and metros led with a 55 per cent share of loans while the rural areas had 30 per cent.
Original source: Business Standard | Money Control 8th April 2018
(Reprinted)