CRIF - Supporting Banks in Digital Journey
Parijat Garg, Vice President, CRIF High Mark Credit Information Services Private Limited, in conversation Rashi Aditi Ghosh with
Elets News Network (ENN)
.
Give us an overview of your product line and services in India.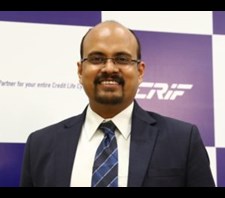 We are into FinTech, specialising in credit information, business information, analytics, scoring, decision and credit management solutions. We are mainly known for our Credit Bureau Business "CRIF High Mark". CRIF High Mark is India's largest credit bureau database covering nearly 35 crore borrowers across retail, rural, agricultural, Micro, Small and Medium Enterprises (MSME), corporate and microfinance segments. Over 3,000 financial institutions are our members including banks (co-operative banks as well), Non-Banking Financial Company (NBFC), housing finance companies, ARCs and microfinance institutions. We also work with Telecom, Insurance and Broking companies.
 Our primary product line is CRIF credit reports and scores which is used by member financial institutions to evaluate loan applicants' creditworthiness. Our clients also use our service for real-time verification of applicant's KYC data before underwriting the application.
CRIF High Mark is the pioneer in building and operating the country's first and world's largest Microfinance Bureau Database, kindly share some details on the progress of this project.
Our company's vision is an all-inclusive credit bureau, so how can we miss any segment of borrowers? Credit Bureau business heavily depends on technology and the quality of underlying data. Microfinance sector then had very challenging data quality, but needed a credit bureau to enable recovery from 2010 Andhra Pradesh. We deployed some innovative technologies to effectively work with such data and launched India's first Credit Bureau for Microfinance lending in March 2011, immediately after receiving from the Reserve Bank of India (RBI) our license to operate as a credit information company (CIC).
Your organisation has been closely working on Cooperative banking platform, what changes in terms of digitisation do you see in cooperative banks?
We have over 1,000 cooperative banks as members. We have very strong coverage across the country especially from southern states and Gujarat. Over the years, cooperative banks have moved to adopting Core Banking Solution (CBS). Some of the large cooperative banks have even implemented Loan Origination Systems. Though the cooperative banks have come a long way in computerising many of the processes, there are many things which can be done on the credit management and risk management front to be almost fully digital customer to apply online from the bank's website, get an instant quote, upon acceptance share scanned copy of documents, approval or rejection etc. Banks adopting data and technology enabled cost-effective solution will lead the way in future. CRIF is poised to support banks in this exciting journey.
Tell us about your new center for predictive analytics and decision solutions in Pune.
CRIF, which has been recognised amongst top 100 FinTech by IDC Financial Insights, is a leading provider of solutions for predictive analytics, decision automation and loan management software.
An experienced analytics team of data scientists and statisticians helps clients' risk management, marketing, customer management and collections teams with bespoke scorecards and models. This team supports not only clients in India but also clients in South East Asia and West Asia, as well cooperates with CRIF offices in other geographies such as Europe, Russia, North and Central America. CRIF has operations in 50 countries across four continents.