CRIF High Mark organises awareness program on Credit Scoring at Nagpur
CRIF High Mark, an RBI approved Credit information bureau and part of Europe-based CRIF group, organised an awareness program, "A borrower's guide to securing financial future" today to explain the implications of  Credit Scoring on borrowers' financial future. CRIF High Mark is India's only credit information bureau covering all type of borrowers – Consumers, Microfinance, MSME and Corporates.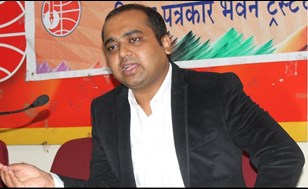 Speaking to the media, Parag Nikas, Senior Project Manager- Strategic initiatives said "Credit Score is an estimate of the ability of a person or organization to fulfil their financial commitments, based on their track record on loans or credit cards. Credit Reports and Scores have helped people in getting loans approved quickly from Banks, NBFCs and MFIs. It is very critical for a borrower to repay their loans on time as delay in repayment directly impacts the person's ability to borrow in future. Credit Bureau identifies inpiduals using many personal details, with Aadhaar Number being one of the key ones." Multiple micro-finance institutions have come up across the developing nations including India, as an alternative to provide loans to underserved people with the goal of promoting financial inclusion. India also has hundreds of such micro-finance institutions providing financial support to nearly 4.5 crore women and their households across the country.
The microfinance lending portfolio today is nearly Rs 1 lakh crores. About 10% of this is in the state of Maharashtra. When a person applies for loan, a bank or an MFI checks her credit report and score. Generally, a credit score of 700 and above makes a person eligible to avail loan while anything below 600 is likely to lead to a rejection. The banks use credit reports and scores to know exactly how much a borrower owes from previous loans availed, how she is paying on those loans and whether she had applied for loans elsewhere. By paying loans regularly and repaying any previous over dues, a borrower can make her credit score healthy once again and can become eligible for further loans in due course. 
Link: Nagpur Info