Business Credit Report Analysis and Review
A business credit report is a record of a company's financial health and assists the lender in determining a potential customer's creditworthiness.
A business credit report analysis entails evaluating the information contained in a credit report, such as a client's information, credit summary, foreclosures and repossessions, any inquiries made, and public records on bankruptcies.
It is important to monitor and review your credit report regularly, as it can help you identify any discrepancies that can then be corrected immediately.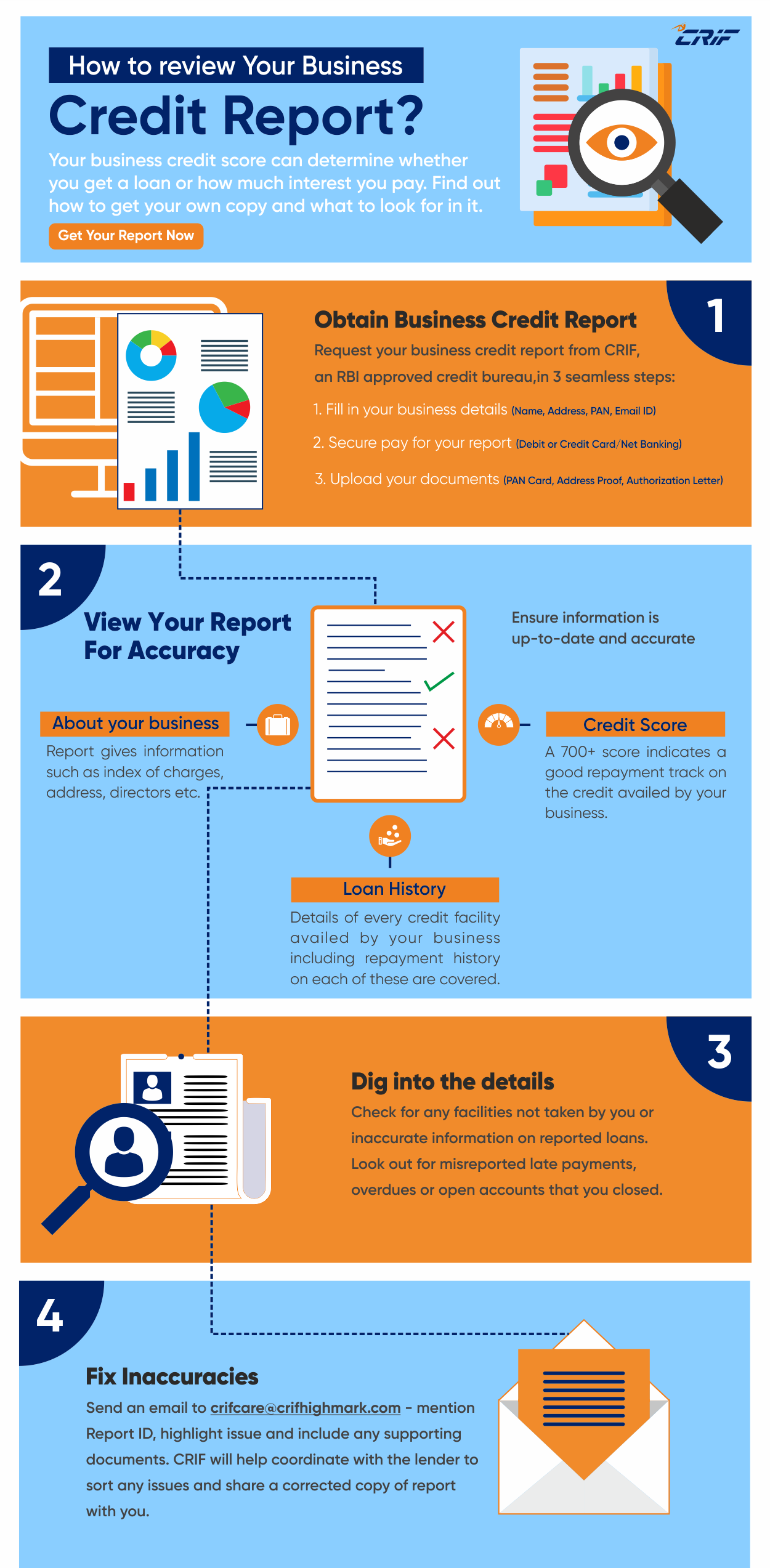 How to review your business credit report
The reputation, financial stability, and capacity to obtain business financing for your company can all be impacted by business credit. Establishing and maintaining good credit for your company might be more crucial than you think. To review your business credit report, you will have to
Obtain a business credit report
View your report for accuracy
Dig into the details
Fix inaccuracies
Further, the article will guide you on how to review the business credit report:
Obtain a business credit report
You can get a business credit report from CRIF, an RBI-approved credit bureau, in three simple steps:
Provide your business details, including the registered name, address, PAN number, and email ID.
Pay the fee using a debit card, credit card, or net banking.
Upload the required documents, such as the PAN card, address proof, or an authorisation letter.
View Your Report for Accuracy
Check if the index of charges, addresses, and the list of directors/promoters are correct. You must update the credit report if any of the company's top executives have left or joined.
Review your loan availed and repayment history. Ensure that there's no outdated status.
Note that the overall credit score should be above 700 to get a business loan at attractive rates. If your credit score is below the minimum or your report shows discrepancies in past payments, the bank may ask for collateral against the loan. 
Dig into the details
Look for any services you have not utilised or incorrect information on reported loans.
Check for open accounts that you closed or misreported late payments.
You can also find out if identity thieves may have used your personal or business information to obtain loans in your name.
Your credit report should not show any loans or credit card debt that you did not take.
Fix Inaccuracies
Correcting the errors as soon as possible can boost your credibility and increase your chances of securing a favorable loan deal. Before changing an entry in your credit report, the bank may request documentation from you in some circumstances. For example, if you have already closed a loan that shows open in the credit report, the credit bureau may ask for the NOC from the lending bank before correcting the record.
To correct the inaccuracies, email crifcare@crifhighmark.com mentioning the credit report ID. Highlight the problem in the credit report and include the supporting documents. CRIF will coordinate with the previous lender and share a corrected copy of the credit report.
Getting the company credit report is crucial for your loan application, and trusting an ISO 27001-certified credit bureau such as CRIF High Mark will make this job easy. CRIF High Mark has tie-ups with 3000+ banks and holds the trust of over 500 million customers globally.
With the CRIF business credit report, you get better financing options to manage, enhance, and monitor the financial stability of your organisation.