How to Check Your Company Credit Report
A company credit report, also referred to as a business credit report, assists businesses in maintaining financial control. Before granting business finance, it is usually one of the first documents the lender will evaluate. A credit report reflecting good financial health and creditworthiness is essential while applying for a business loan. The article will take you through steps on how to obtain a company credit report online.
What is a Company Credit Report?
Banks and lenders use company credit reports as a means to assess a firm's creditworthiness and make educated loan decisions. Credit bureaus calculate your company's credit score by analysing past payment behaviour, credit history, and past debt and debt usage. Your company credit report directly affects your chances of getting loan approval by revealing your current debt obligations and your ability to repay the loan. And it also determines the interest rates for your loan.
Information Included in Your Company Credit Report
Key components of your company credit report are:
Inquiry Information (i.e., details such as organization name, ID, Address, Phone Number, etc.)
Credit Score or Rank, if applicable
Credit Summary (i.e., aggregate details of key indicators of credit performance)
Account History (i.e., specific tradeline details such as sanctioned amount, outstanding balance, overdue amount, repayment history, etc. of every open and closed credit facilities)
Inquiry History (i.e., list of inquiries made with CRIF High Mark)
How to Obtain Your Company Credit Report?
To obtain your company credit report, you'll need to: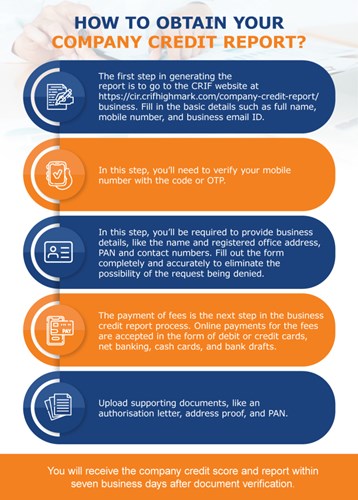 Step 1: The first step in generating the report is to go to the CRIF's business credit report page. Fill in the basic details such as full name, mobile number, and business email ID.
Step 2 – In this step, you'll need to verify your mobile number with the code or OTP.
Step 3 A– In this step, you'll be required to provide business details, like the name and registered office address, PAN, and contact numbers. Fill out the form completely and accurately to eliminate the possibility of the request being denied.
Step 3 B – The payment of fees is the next step in the business credit report process. Online payments for the fees are accepted in the form of debit or credit cards, net banking, cash cards, and bank drafts.
Step 3 C – Upload supporting documents, like an authorisation letter, address proof, and PAN.
You will receive the company credit score and report after document verification. Your report will be sent to you within 7 working days upon successful verification of the shared documents.
What Does a Blank CRIF Credit Report Mean?
If you get a blank CRIF credit report, it means:
We could not find your information in the CRIF database; or
We could not find any credit history in the CRIF database regarding the inquiry details.
What Should You Look for in Your Company's Credit Report?
A company credit report can significantly influence your access to credit; therefore, you must do your due diligence while checking your company credit report. Some of the key points you should always check for inaccuracy are payment and credit history, errors and discrepancies, and incorrect or outdated Information.
Paying your business dues on time and using credit wisely stand you in good stead. If your business credit report remains impressive, you can establish your creditworthiness, maintain a good company credit score, and earn good financial credibility and market support.