Ajay Garg
Director
An investment banker with a successful deal making track record, Ajay Garg is accomplished in spotting the right investment trends in India on the basis of which funds like Warburg Pincus, Actis, Chryscapital, Sequoia, KKR, AIG, Citigroup, ICICI Ventures, Barings, IDFC have invested capital in India. In the last 15 years, he has been responsible for over 100 plus transactions with a total value in excess of US $ 5 billion. He has also headed the private equity advisory desk at DSP Merrill Lynch for six years.
He currently heads Equirus Capital one of the fastest emerging investment bank and ranked in the top 10 of the Bloomberg advisory league table. Ajay completed his MBA from IIM Ahmedabad in 1996 and has a first degree in engineering. He represents a group of shareholders on the CRIF High Mark Board.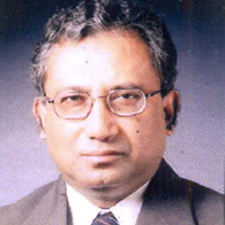 Supriyo Chaudhuri
Director
Supriyo Kumar Chaudhuri retired as Chief General Manager (CGM) in 2014 from the State Bank of India (SBI) after more that 30+ years of service across various roles.
He began his banking career as a Probationary Officer in SBI in 1977. He was the Chief Manager of SBI's La Martiniere Branch, Calcutta, in 1995, the bank's first branch to be fully computerized in Eastern India. He also set up and headed the bank's Commercial Branch in Siliguri, covering the whole of North Bengal and Sikkim. As Deputy General Manager of Visakhapatnam module covering four districts of Coastal Andhra Pradesh, he led the Bank to a position of eminence in all parameters. He has been General Manager of critical networks of the Bank in North East India, Orissa and Chandigarh covering a large number of Branches in very difficult terrains. The States covered were Nagaland, Mizoram, Tripura, Meghalaya, Manipur, Haryana, Himachal Pradesh and Jammu and Kashmir. He was also General Manager of the Mid Corporate group in Kolkata, which handles large and medium Corporate accounts. Owing to his vast experience he was appointed as Chief General Manager of Credit Policy and Procedures Department of the SBI in 2012.
He holds a Bachelor's degree with Honours in Economics from Presidency College, Kolkata and Masters in Economics from Calcutta University and Post Graduate Diploma in Business Management from Indian Institute of Management, Kolkata. He has also completed an Executive Development Programme at the University of Virginia, USA.